Copy DVD To PS3
Step1: Download applications
Applications you need DVDDecrypter and AnyDVD (AnyDVD removes macrovision/protection on dvd's and DVDDecrypter will decrypt the DVD to a mpeg format – AnyDVD comes with a 21day trial but will cost EUR 49.00)
Step2: Setup of applications
After d/ling the 2 necessary applications (might need to restart pc) put in your DVD… Notice the little fox bottom right (AnyDVD) on your taskbar, it'll remove all protections on every DVD automatically. Give AnyDVD 2min to remove protections. Then open up DVDDecrypter.
Step3: Next select 'IFO' from the 'Mode' drop-down:

Step4: Now you choose the main movie from the list on the right:

Step5: Now on the Stream Processing Tab you check 'Enable Stream Processing' then tick off which Video, Audio and Subtitle file you want. I personally stay away from subtitles coz hey my DVD'S are in english. So eg: I tick video and 6channel audio: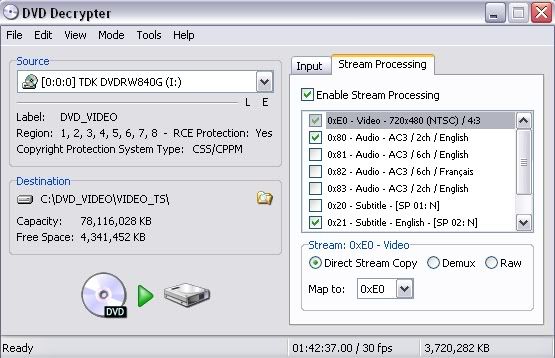 Step6: Now, let's alter one IMPORTANT setting. We don't want multiple VOB files. Rejoining them is a pain in the ass and can cause audio sync issues. That said, under the 'Tools' dropdown, choose 'settings…', click the 'IFO MODE' tab and select 'None' from the 'File Splitting' drop down.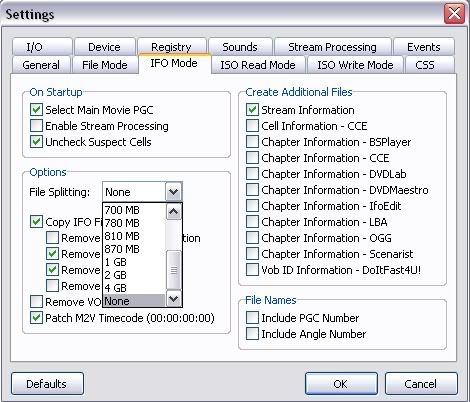 Step7: Click OK and and start decrypting (click on dvd –>hdd icon)
Step8: After the decrypting is done look in your destination folder you should see a few files… we are after the .vob one. so look for a file that says "something.vob" now just rename .vob to .mpg and SHAZAAAM you now have an mpeg that just need to be copied to your ps3. (A little trick i learnt back in the day .vob=.mpg)
Additional notes and understanding
What we did was decrypt a dvd to one file which is an mpeg file that'll play on the ps3 without loooong conversion process's. Keeping in mind that your dvd should b 4gig or less so you can copy it an external fat32 Hard drive.
If you find that your overall movie is bigger than 4gigs you can split up the movie say into 2 parts (step6)