Posted on 19. Nov, 2012 by Rockstar22 in Games, Images, News, Video
Ok this is awesome! Creative Director Ken Levine announced his Ultimate Songbird Edition for BioShock Infinite as well as a Premium Edition for all fans of the game that will be released on February 26, 2013. Check below the video as well as some more details about this collectors edition.
The songbird statue was designed by concept artist Robb Waters from Irrational Games and a wicked statue at that! In the video below Ken Levine discusses the design and concept for Songbird and gives us a closer look at this 9.75″, hand-painted with a resin cast statue.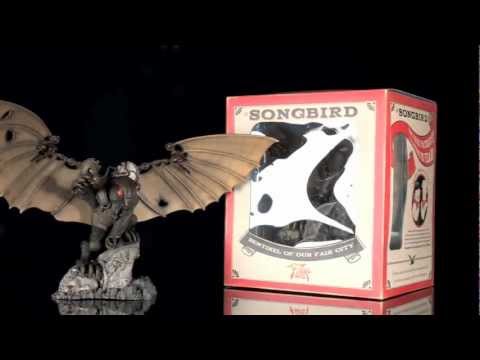 The history behind this statue comes from the game itself when Elizabeth was imprisoned for fifteen years, this creature; Songbird was created for the sole purpose of keeping her in prison. During this time she was held in captivity, this creature was all she knew; it protected her and took care of her bringing her food and books to read. Although it was the most feared creature in all of Columbia, it was Elizabeth's only friend.
Here are the two special editions of BioShock Infinite
ULTIMATE SONGBIRD EDITION
Songbird Statue: This highly detailed, hand painted, resin-cast 9.75" statue was designed in limited edition by Robb Waters, concept artist at Irrational Games. This statue, shipped in collectible packaging inspired by the world of Columbia.
Art Book: This 64-page collectible mini-edition of The Art of BioShock Infinite provides a substantial look at the full version, published by Dark Horse Comics. This special-edition art book offers an exclusive peek at the development of the game's unique art style, and features a hand-distressed linen cover, early designs, and concept art.
Handyman Figurine: Get ready to play the upcoming BioShock Infinite board game, BioShock Infinite: The Siege of Columbia, created and published by Plaid Hat Games. With this exclusive, 25mm resin-cast Handyman figure, you'll have a head start.
Lithographic Print: A real-life piece of propaganda from BioShock Infinite's world of Columbia, this heavy-stock lithograph print, an ad for the Devil's Kiss vigor, was designed by Jorge Lacera, concept artist at Irrational Games.
Murder of Crows Keychain: This follow-up to the highly-demanded, full-size Murder of Crows replica bottle is an exclusive 3″ keychain. It is fully 3-dimensional, hand-painted and distressed, and features a sturdy brass ring.
Downloadable Content: Downloadable soundtrack features music from BioShock Infinite and is exclusive to the Premium and Ultimate Songbird Editions and Gear Pack DLC – Start the game with three exclusive Gear power-ups.
PREMIUM EDITION
Premium edition will come with all the goods mentioned above except for the Songbird statue.
No local pricing has been confirmed for the BioShock special editions but should be available for pre-order soon! Also check out www.bioshockinfinite.com/ for more details on these special editions and for more info on the game.