Posted on 05. Dec, 2008 by Freak_c in News, Reviews

Resistance 2: Review
by Claudio Cecchi (Freak_c)
Resistance 2, one of the most anticipated sequels to come out this year and a game that has even been compared to one of the Xbox's biggest sequels this year, Gears of War 2. The first Resistance: Fall of man was a launch title for the PS3 and man oh man did Insomniac deliver. Almost setting the path for how console FPS games should be. With it's great story, great graphics (for that time) and a 40 player multi-player option that was the main reason that got me into FPS games on a console and online gaming. Now when ever there is a sequel of something it's got to be at least twice what the first one was right? So is Resistance 2 twice as good as Resistance Fall of Man?
YES! It defiantly is in almost every aspect. For the new tech used and pushed by Insomniac for the graphics, amount of things happening on the screen, weapons and that insane multi-player action. They sure have delivered. The first level itself will make your jaw drop.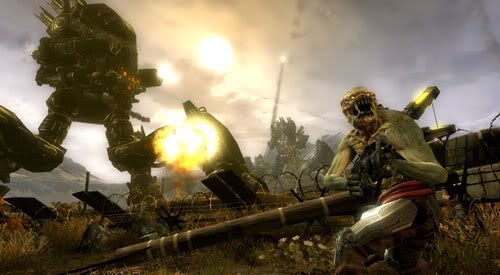 The Single Player Campaign:
The story continues straight from where we left off from the first game. The Chimera have launched a full on and by full on I mean huge attack on America, in an attempt to well yes take over the world. You still play as Nathan Hale, the hero from the first game, and you have some major battling to do. The story is now told via cut scenes rather than narration as the first game, this I find was a slight disappointment but not major as the cut scenes are great to watch and are not that long to keep you away from the action.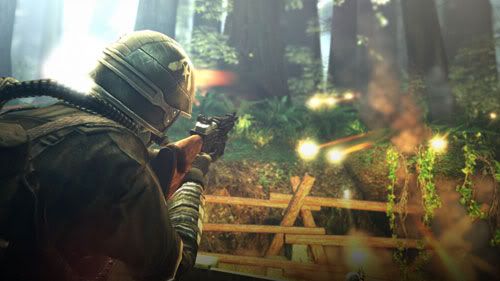 As I mentioned above that they doubled almost everything, I really mean it. You see it in the very first level when you start the game. You pick up a pistol and run around a corner to see this huge open land with this massive, massive robot monster thing walk over you. And each level took my breath away at the size they have made them and the amount of detail and action happening in the background. It truly is a bigger game. The control system has changed from the first game and it is welcomed. They have gone for a Call of Duty type layout where you can toggle aim down the sight with the L1 button and primary fire with R1. Then L2 is used to crouch and sprint, R2 is secondary fire, which every gun has and works great, especially with the pistol that has explosive rounds. Controlling Hale feels fluid and responsive and now with the aim down the site being a little quicker to get to it brings you more into the action. Another change is that you can only carry two weapons at a time now and not a full blown arsenal. This makes the game a little more strategic as you have to consider what you want to go ahead with, but there are plenty of guns laying around for you to choose from.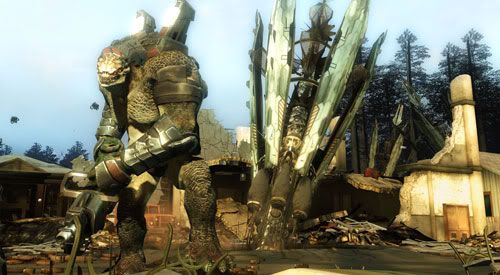 The AI in the game are pretty good and use things around them to take cover, they also flanked me a few times. You are usually accompanied with a squad, which sometimes do nothing but they can hold their own as they have sometimes cleaned an area on one side with me doing the other side. When you face the monsters and you will face plenty, you will do so solo. I will admit that the campaign does get a bit repetitive as each level you will fight a bunch of aliens which each new level introducing a new type of alien and weapon, then repeat with a few slight changes here and there. A few glitches and the AI just stalling, but these are far and few to complain about. There will be some tasks that only you can do as with most FPS games. But it is still enjoyable and sometimes challenging especially on the harder difficulties. But all round a satisfactory campaign.
The Multi-player:
This is where Resistance 2 really shines. With amazingly huge 60 player games and a different take on the story with the 8 player co-op. There is a rank system where you level up to gain extra weapons and what they call berserk mode. This allows you to add a special feature, like a perk while you play. This is not always active and you can only get it active by filling up a meter in the top right part of the screen by getting kills, once fill press down on the d-pad to activate it for a while or until you die. So you could take a sniper rifle class with a berserk mode called advanced radar, which will help you see enemies further on your radar. You can change weaponry and berserk everytime before you re-spawn. This is a nice new feature and adds some customization and depth and the ribbon system is still there.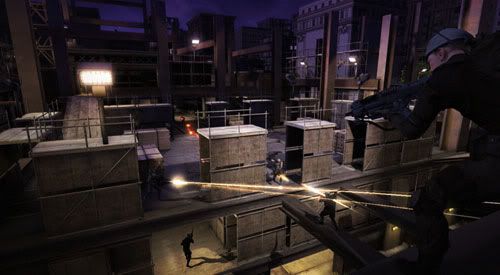 In the co-op mode you can play with up to 8 other players to complete a various of levels which add to the story and is different from the single player campaign. It also forces you to work as a team as you can choose from 3 different classes, medic, engineer and assault. Medic can replenish health to the squad and engineers can drop ammo packs for others and the assault has a big gun and can put up a shield. You will have to work together to open doors activate switches and take down stations, not to mention the mass wave of chimera. This adds something new and different to normal co-op modes. Again I have en-counted a few glitches where some enemies do not die but do not react either and again these are far and few to hinder the fun.
With the normal multi player section there are the few normal traditional modes such as team death-match, free for all and others. There is the one mode that stands out for me which is Skirmish. In this mode you there can be up to 60 players in the game and it will split you up into smaller groups to accomplish certain dynamic tasks. This as you can image can get very hectic and insane at points. I was playing the one match and all of a sudden it states that I am the primary target stay alive, you look at the map and you see red and blue dots heading towards you, so you run and you team mates try to protect and help you. Really, really great fun. Another thing that adds to the great experience is that just by shooting someone you get experience as you see it count up above their head while you shoot them, which is great. The multiplayer section reminded me of my schooling days, LANing with Doom, Quake and Quake 3, those were always intense sessions.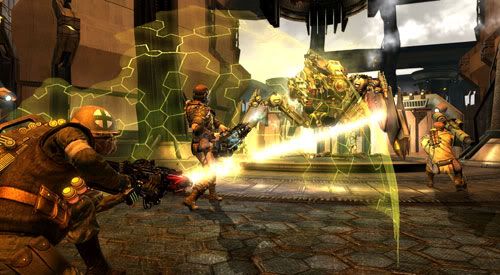 Ok now for the important question the lag issue for us South Africans. I am on a 384kb line and the lag was as good if not better than the first game. I was playing internationals and what you see you can hit, sometimes you get the kill and sometimes they do but you can play the game and enjoy it. The lobby system is as great as the last one maybe even better. It can be a little confusing in the beginning but once you know your way around its one of the best out there that I've seen.
Graphics and Sound:
The graphics are a step up again from the first one. Also the colour palette has been juiced up a bit and each level gives the mood it should. So basically its not as bland as the first game. One mention must be the water! WOW the first time I landed in and saw water I literally stopped to look at it. The water reacts very realistically that i found myself running around knee deep water to see the ripples react. really impressive. With an HDTV this game looks great. What is even more impressive is that there a small install of 350mb+- and the load times are very descent under 30secs or so.
The sound is ok not the best but it does the job. A nice 5.1 mix. The guns sounds, sound like you think that a sci-fi alien gun would sound and the monsters as well. Voice acting is great and fit the characters nicely. All in all a nice sounding game.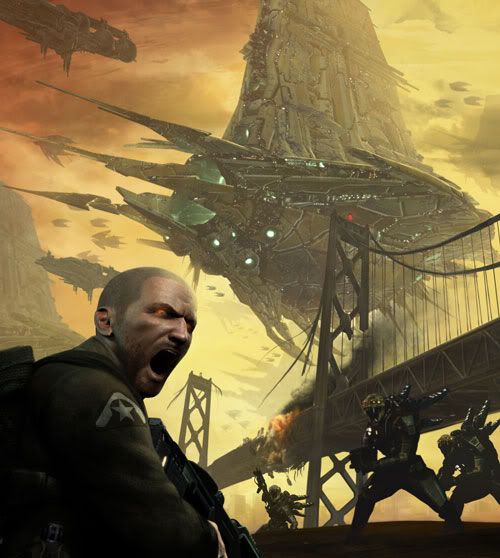 Conclusion:
So lets break it down, sci-fi story and theme = great, huge areas and 300ft monsters = awesome, hectic intense multi-player action = awesome. Resistance 2 comes as a nice package, the single player isn't its gold star but will satisfy anyone who enjoyed the first game or even if you enjoy shooting tons of aliens with sci-fi type weapons. If you keen for some new type of multi-player action which has a slight similarity to the old school Quake 3 types that can get pretty intense then this is for you. Great package and will hold you till Killzone 2.
The single player - 7.5
The Multi-player – 9
Graphics and sound – 8
Overall – 9/10 (Not an Average)
A big thank you to Ster Kinekor for supplying an awesome press pack of the game.