Posted on 26. Sep, 2008 by Johnn0 in Games, News, PSN Network
Alright so I had planned for this hands-on to be a little more in depth than it is going to be, partly because we will be going into detail in the review and partly because I only played the game at 3am this morning (I aint scared of no epilepsy warnings… ). WipEout HD has been on many a gamer's radar for a very long time now and there are many hopes that this game will live up to the hype that has generated in that time. And from my short time with the game, it looks like Studio Liverpool has outdone themselves.
Without even being a fan of WipEout – I only had the first one on the PSone – I can honestly say that this game is fun, the mechanics of it will take some time to learn but the sheer joy of defying gravity and blowing opponents up at the same time is difficult to quantify. With that said, I am pretty sure that there will be a few controller flinging moments in the game as the difficulty ramps up quite hecticly at the higher speed classes.
There are a decent selection of modes in the game of which i have tried 3 a single race, online race and zone mode. The single on online races work as you would expect, zone mode however is the single coolest feature in a racing game i've ever seen. Now, please remember it was 3 in the morning when i played this so i'm not quite sure of the obejective of zone mode but as an experience it is awesome.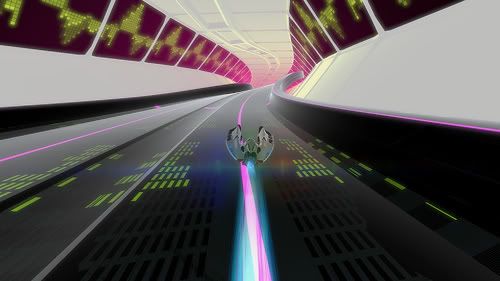 There was a concern that this mode has been dumbed down due to the epilepsy issues and all I can say to that is Thank God, if this is the dumbed down version then Sony would have created epileptics by the bucket load with the original version. Combine this mode with your own soundtracks and you have something that I can see keeping people entertained for a long time. The floor and walls come alive with graphic equalizers and sound graphs that move to the music currently playing and the track changes colour when you complete a zone. It is brilliant.
With regards to the online capabilities Studio Liverpool have – from what it seems – done a very fine job with the net code, I experienced little to no lag in my two races and even won one (I was proud), everything moves as expected and even competitors don't seem to "hop" around. I will do more testing on this over the weekend to check whether or not it was just because of the time i was playing.
With all the features available, custom soundtracks, trophies, photo mode (used to capture all the pictures on this post), online racing, offline split-screen, extra liveries for the ships and a whole lot more, it seems that for R170.00 Sony has given all of us very big thank you for buying a PS3. 
Look out for the Full Review coming soon. In the mean time let us know what you think of the game so far.